North Gaia Location Map
Be connected to the beating heart of your habitat
A living, breathing ecosystem of nature, amenities, and conveniences - all within your reach. Stay connected to the ever-changing world around you, with your home as your sanctuary.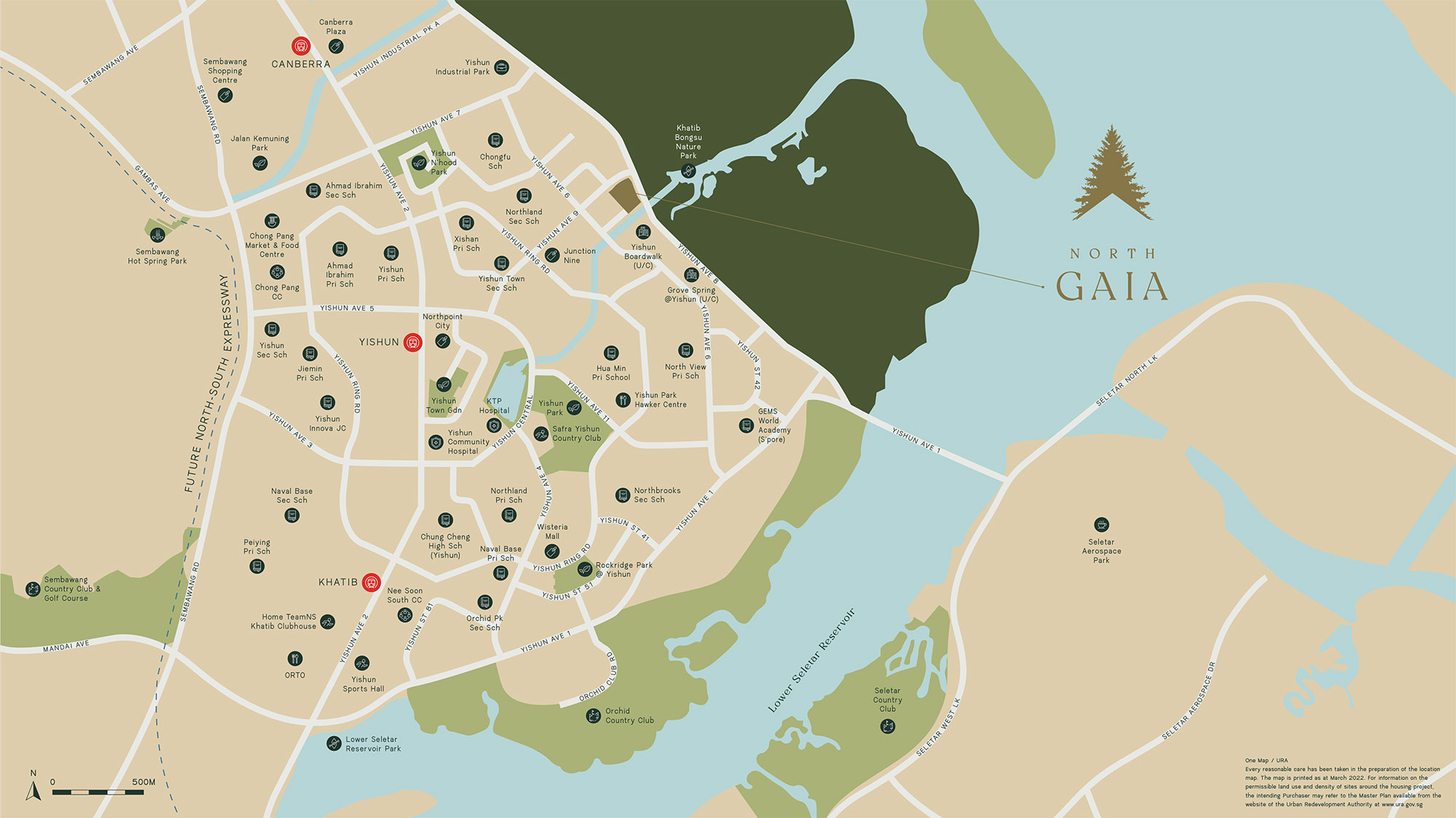 You can never have too much adventure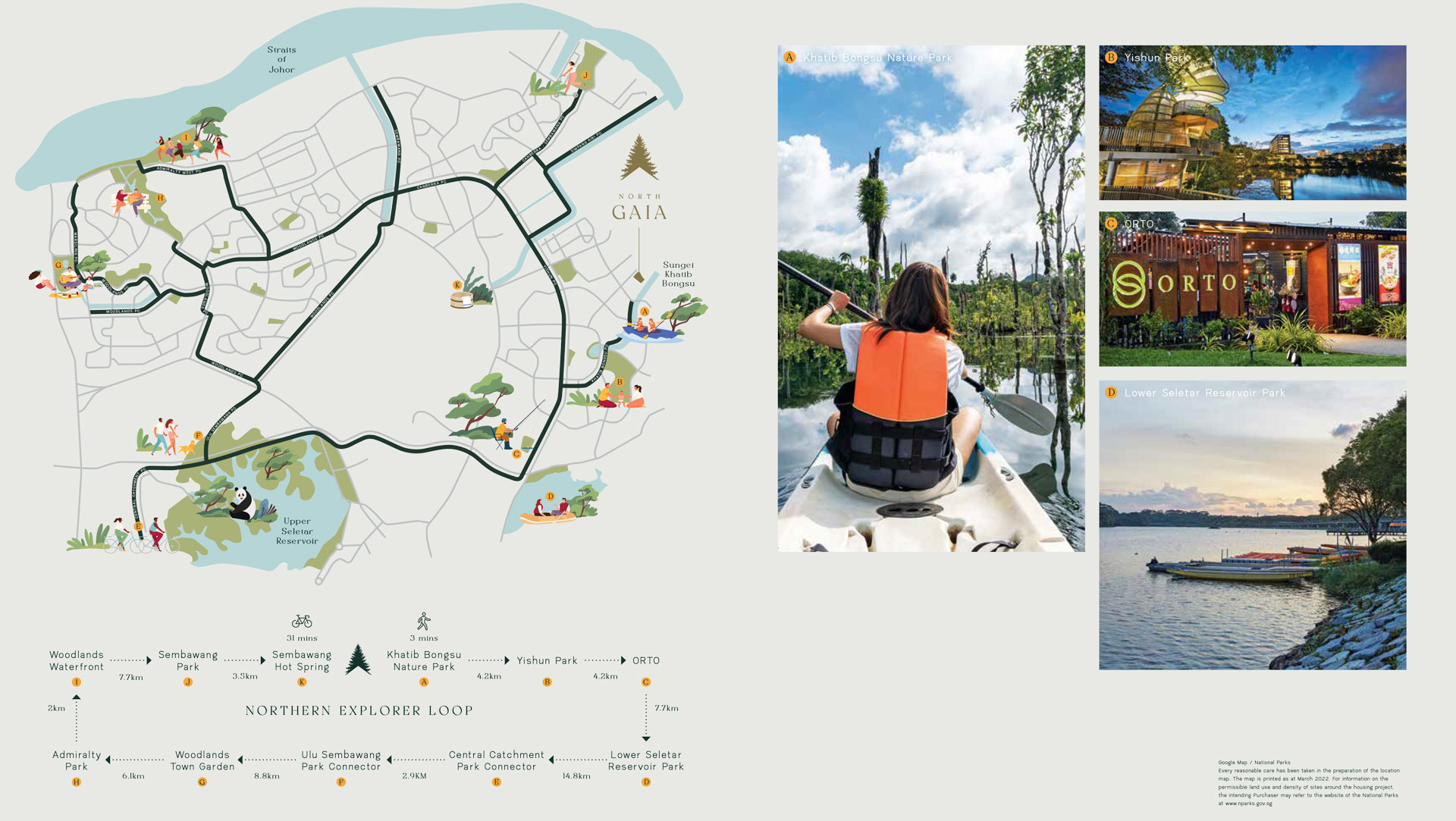 Paint your day with greens and blues.
Kick back, and soak in life's easy pleasures. With nature at your beck and call, adjourn from the noise of the city and indulge in the bliss of the natural world

The North South Corridor - uniting the North and the city
Connecting your home in the North to the city - the North South Corridor. Providing a clear route from your Northern sanctuary to the heart of Singapore's business district, smoother, faster journeys await you - so there's always time for work and pleasure.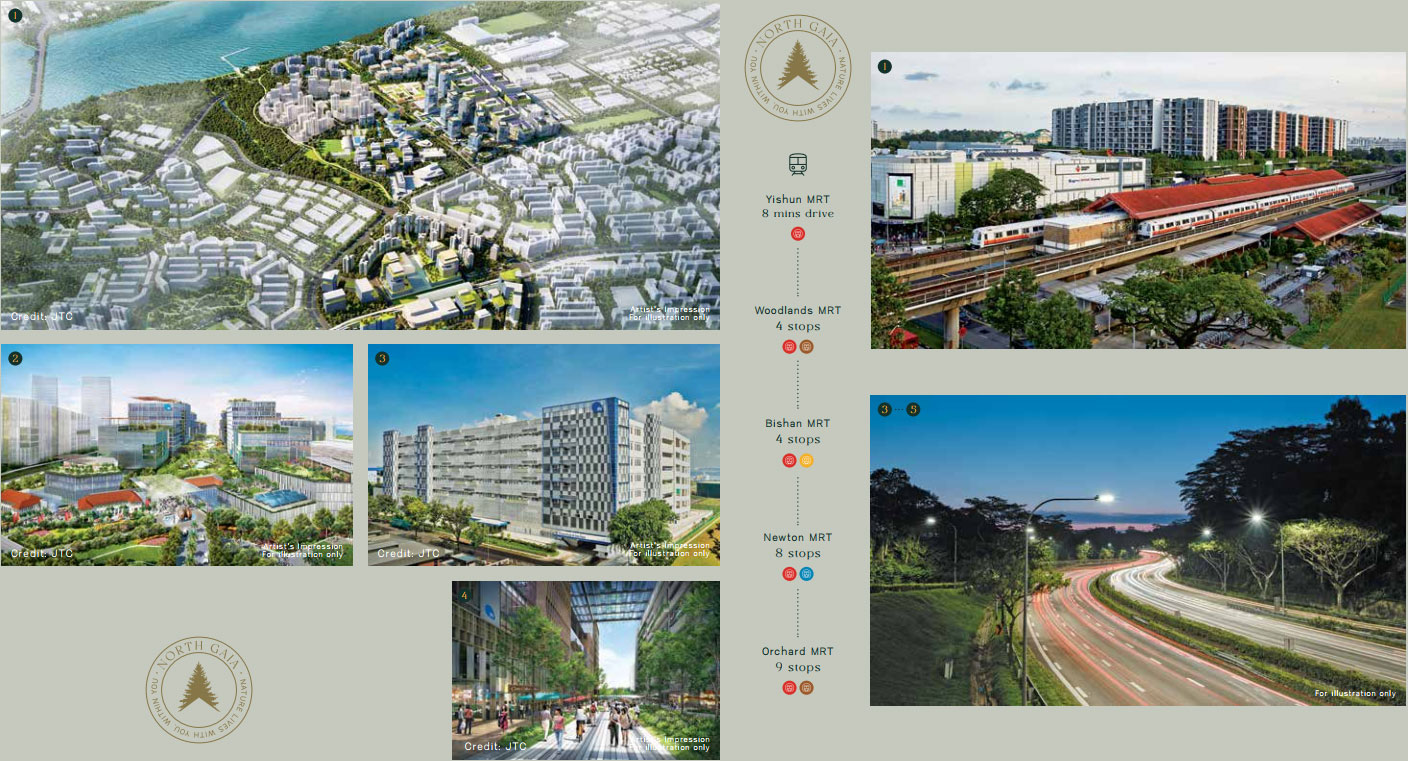 Your needs and necessities are in infinite supply
Expect the best - a vibrant array of amenities lie in store for you, from diverse retail options to premier luxury.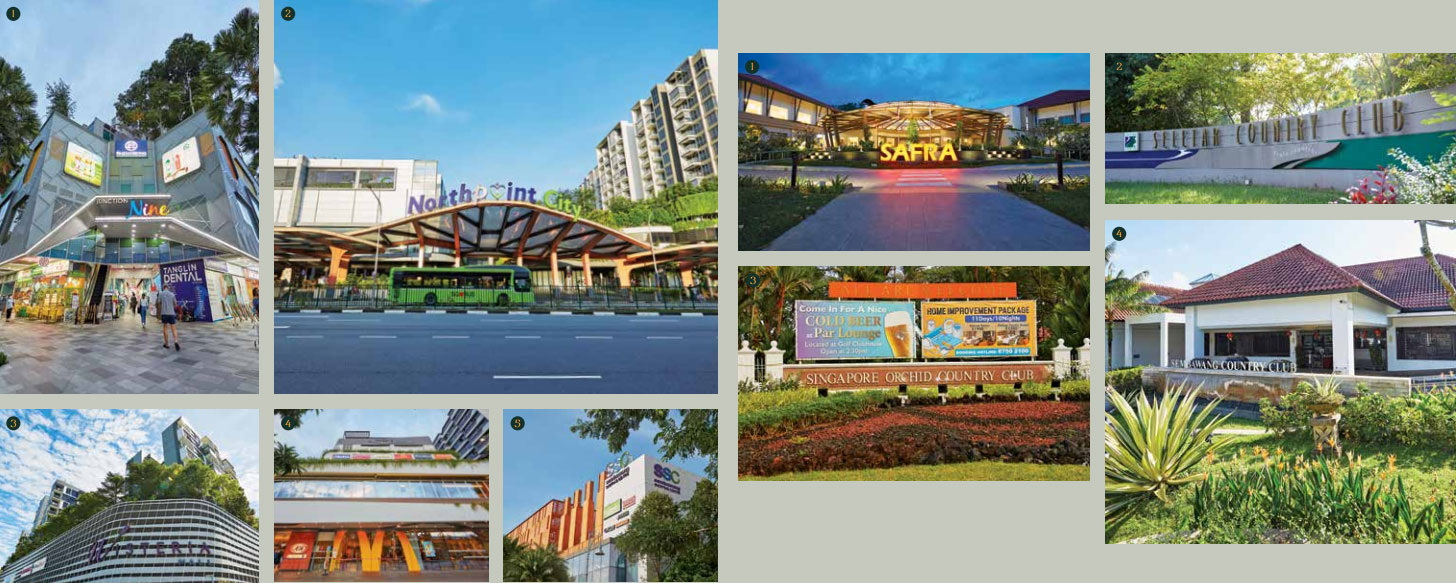 Possess the bounties of enrichment and leisure
Embrace the range that the North has to offer - a world-class ecosystem of education, delectable gastronomical delights accompanied by the grandiose facade of Singapore's colonial past - it's never a dull moment from dawn to dusk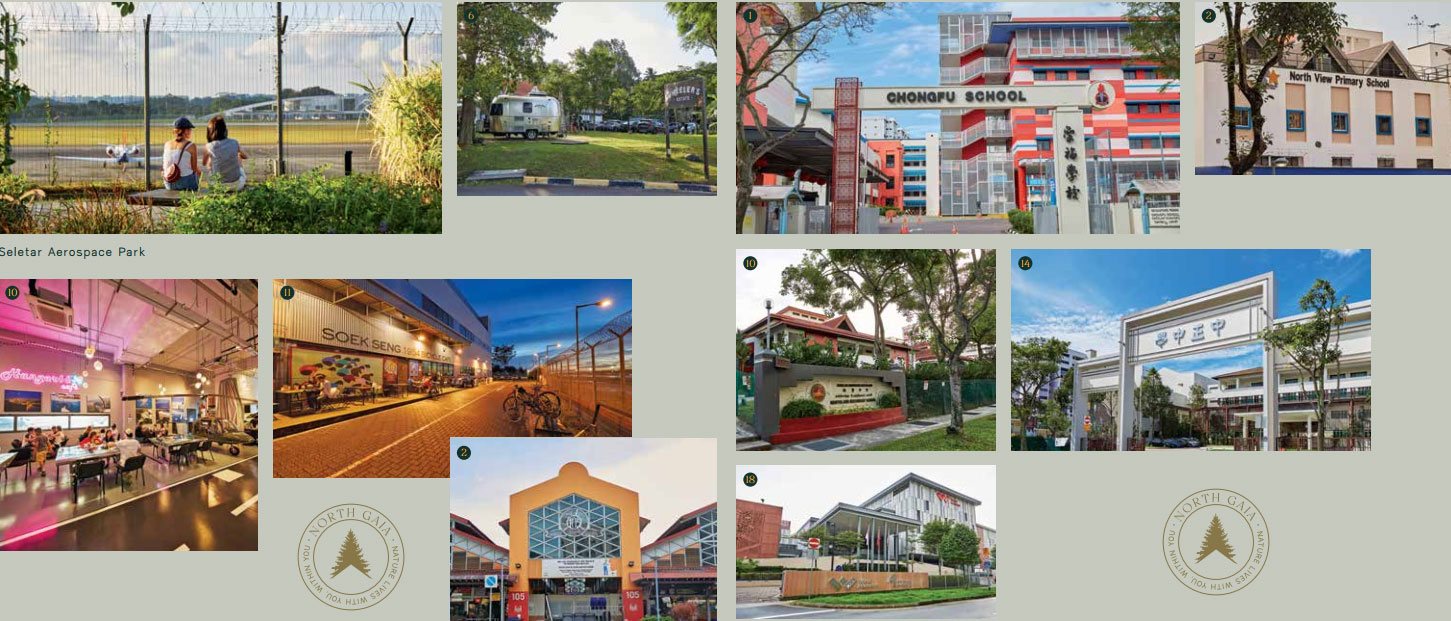 North Gaia Nearby Amenities
FUTURE NORTH COAST CORRIDOR
1. Woodlands Regional Centre
2. Woodlands North Coast
3. JTC Food Hub @ Senoko
4. Punggol Digital District
CONNECTIVITY
1. Yishun MRTs
2. North-South Corridor (U/C)s
3. Seletar Expressways
4. Tampines Expressways
5. Pan-Island Expressway
SHOPPING MALL (distance drives)
1. Junction Nine Mall – 4 mins
2. NorthPoint City – 10 mins
3. Wisteria Mall – 12 mins
4. Canberra Plaza – 13 mins
5. Sembawang Shopping Centre – 14 mins
COUNTRY CLUB (distance drives)
1. SAFRA Yishun Country Club – 10 mins
2. Seletar Country Club – 1 1 mins
3. Orchid Country Club – 12 mins
4. Sembawang Country Club – 17 mins
SELETAR AEROSPACE PARK - 14 mins drive
1. The Oval @ Seletar Aerospace Park
2. The Summerhouse
3. Wildseed Cafe & Bar
4. YOUNGS Bar & Restaurant
5. Di Wei Teochew Restaurant
6. Wheeler's Estate
7. The Singapura Aerospace Club
8. 5 by Sans Façon
9. Chow Cute Cafe
10. Hangar66 Cafe
11 . Soek Seng 1954 Bicycle Cafe
12. Georges Hideout @ Seletar
LOCAL DELICACIES (distance drives)
1. Yishun Park Hawker Centre – 6 mins
2. Chong Pang Food Centre – 13 mins
PRIMARY SCHOOL
1. Chongfu Schools
2. North View Primary School
3. Xishan Primary School
4. Huamin Primary School
Within 2KM
5. Yishun Primary School
6. Ahmad Ibrahim Primary School
7. Northland Primary School
8. Jiemin Primary School
SECONDARY SCHOOL
9. Yishun Town Secondary Schools
10. Northland Secondary Schools
1 1 . Ahmad Ibrahim Secondary Schools
12. Northbrooks Secondary Schools
13. Yishun Secondary Schools
14. Chung Cheng High School (Yishun)s
15. Naval Base Secondary Schools
16. Orchid Park Secondary School
JUNIOR COLLEGE INTERNATIONAL SCHOOL
17. Yishun Innova Junior Colleges
18. XCL World Academy
Book An Appointment
Kindly contact us to Enjoy Direct Developer Price & EXCLUSIVE Showroom Viewing!
Register now for fastest & latest price updates!
Be the first to know about the latest updates of the development.